Recently, we downloaded the 2015 report on the Irish Digital Consumer, published by Shane O'Leary. It contains many excellent insights into the state of online activity in Ireland.
Then, last Thursday, we attended an informative morning event organised by Meltwater, to discuss digital influence. One of the speakers was Adrian Weckler (Technology editor of both The Irish Independent and The Sunday Independent), who opened our minds with regard to global technology trends, and in particular, about social media channels.
Here is Adrian's article that I read in an issue of www.independent.ie titled: "Your business guide to what sites are working on the social scene", which will give you a feel for his presentation.
All of the above gave us food for thought about the digital influence on a business. In particular, we wondered whether businesses realise how much their buyer's journey has been radically changed, due to technology. We believe that it is because of this changing environment, that us marketers, and indeed all businesses, must grasp the new realities and align appropriate strategies to them.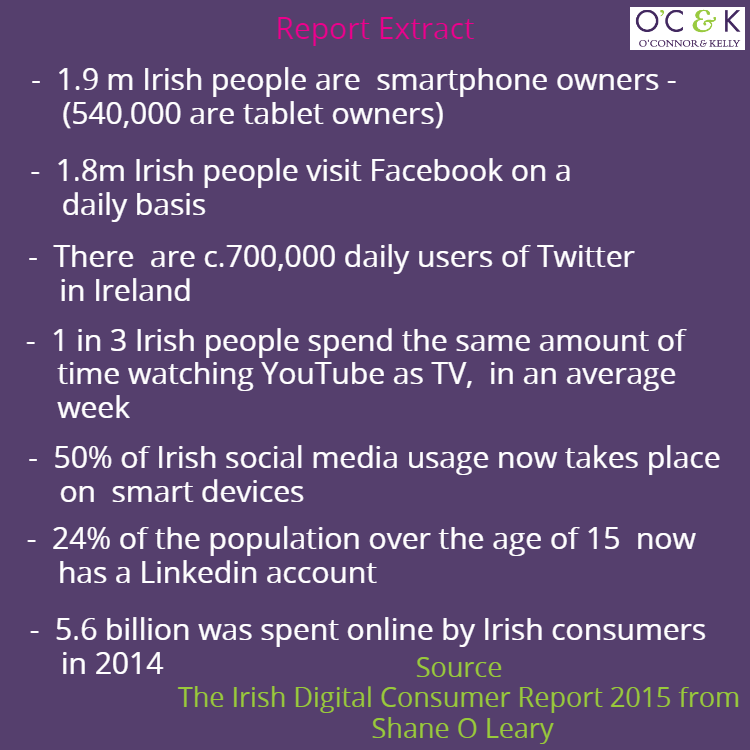 When you think of it – digital is a very disruptive influence.
The thing is, not only has digital disrupted entire industries but it has transformed the way that people buy things. One of the biggest changes is that the 'purchase journey' is not linear anymore. It's not linear because we (the customer) are inundated with information helping us to make our choices.
Even if we feel we have done enough research – due to being 'connected' all the time, we keep on discovering more information that might influence our purchase decision. The challenge for businesses nowadays is to acknowledge that discovery can happen at any time or place.
As you can imagine in such an environment, businesses relying on outbound marketing only, will not survive the competition. The old adage of 'spraying and praying' comes to mind, once more.
One solution is inbound marketing which can lead the customer to the information that they seek and that you provide for them. And that's where digital influence comes into play. It's not just about campaigns anymore – it's about engagement with and involvement where, your prospects are looking for information – usually online.
As alluded to in our last article, here, the end goal for a business cannot be the short-term gain of a 'purchase' anymore. Because of digital influence on connectivity, the satisfied (or not) purchaser will share their experience through a myriad of channels with friends, family, colleagues and of course, strangers. These prospects may convert at some time in the future.
You could almost say that decision making has become crowd-sourced. Therefore, businesses need to lose their sales-focused communication and learn how to be part of the buyer's conversation – wherever that may be.
The demands on the modern marketer's role have also been influenced by digital. Now they need to nail down web analytics, SEO, display and search ads, social and mobile as well as physical brand touch-points.
In addition, new marketing technology will be required so good negotiation skills will be required to get the CEO and finance people on board.
Reading Shane's report, mentioned above, and listening to Adrian Weckler, businesses should be in no doubt where they stand. There is a big gulf between where we are now and where the personalised, relevant and consistent experience that customers expect is.
Digital shouldn't be a marketing box that you 'tick'.
Despite all the warnings and threats, you read and hear about, however, there is absolutely no point in embracing digital, just because everybody else is. But in saying that, when you do, it should be stressed that there is a difference between attending a conference / training session / reading a book and undertaking social media for yourself, and learning from your mistakes.
Can we just say that a lot of social media theory sounds great (and looks great when it works) but like everything else – success is not that simple. Digital shouldn't be a box that you tick.
Just like any marketing activity, your digital visibility should be based on business objectives. You may require external assistance to align suitable channels to target audiences, but we don't believe that you should hand over your online presence to a 'guru'.
Do you need a 'specialist' to know all the rules and guidelines?
Yes, there is etiquette, and a specialist will provide you with case studies and statistics for almost everything online. But remember – you are unique and your business is different. You just need to be aware of where digital can influence the achievement of your business objectives.
Of course, you should not dismiss the notion of hiring a marketing specialist to assist you. If you do, here are some questions to ask them about their own social media activity before signing them up:
Which channels were most successful for you in your own business – key metrics?
How do you determine which type of content to distribute in each channel?
Which tools do you use to analyse and identify business opportunities?
What tactics do you use for boosting engagement in different channels?
What these questions will help you with is to find out about the experts. Like, have they learned the 'rules' of social media from books rather than practice and if they have a marketing background.
What's our advice? Do what works best for you and if you don't know what that is, then, get external help from experienced operators. Oh, and if you decide to go it alone, here is a good social media checklist we happened upon recently, from www.thewholegraingroup.com
Tips and Timesavers.
Social media is dynamic in nature and that's not just the platforms and features. The people that use social media are dynamic also. Therefore, your social media strategy should be dynamic.
Sticking with a social media strategy that you devised many years ago might not be a great idea. Times change and so do the so-called rules. Here are six 'rules' that you might consider ignoring or even breaking:
– Don't post pictures of food – 'you are what you publish' is a strapline from a curation tool we use online called www.scoop.it, (what we like is the sentiment of the line). Whatever business you are in – post about that and it doesn't matter what that is. Pets, food, nails, hats, sport, health, anything. That's what your target audience wants – so ignore the begrudgers.
– Stick rigidly to a plan – there is no way that the plan you developed 3 years ago is still relevant. Are you staying with Google+? Are you on Snapchat, Tumbler, WhatsApp – are your customers? It is a good idea to constantly evaluate current platforms, tools, tactics and content sources.
– Be on all channels available – gone are the days where a business had to be present on many digital channels to manage its reputation. It is far more important to use channels that link your customers and your business objectives. Not all channels are equal in the eyes of your customers.
– Post online as much as you can – please do not play the vanity numbers game. The best way to figure out when and how frequently to post is to monitor the engagement metrics. When and what are people liking, clicking, sharing and commenting on? Give people what they need when they show they need it. ~You don't have to stick to what works for somebody else.
– Write the newer tools / channels off – a look at Shane's report above will very quickly outline that not all social media channels are new toys for teens. Also, monitor what your competitors are doing online – the bottom line is, if you can engage your prospects / customers in a particular channel (cool or not) – do it.
– Don't repeat the same post – but the reality is that you have to really. With the decline in organic reach, you need to get as much value from your hard work as possible. For instance when this blog is published, we will post tweets (with different descriptions) say 4 times on day 1, 3 times the next day, twice the third day and then automate it weekly for a period. But be careful – each channel is different. On LinkedIn – we will only post an extract of this blog on the day it's published.
Conclusion.
We can't guarantee it but if you break some of the rules above you might start to realise the influence that digital has on your business. Earlier, we warned you about employing social media gurus and suggested some questions to determine their suitability. Now we'll finish off by giving you four phrases from a client's view, that lead us to believe that they are not aware of digital influence:
"We're not too worried about the content element, you can look after that".
"We need to be on social media because we've noticed that our competitors are".
"Social media isn't measurable so we don't spend too much on it".
"Why change, we've always done it this way and it has been successful so far".
If any of you is thinking along these lines – contact us immediately 🙂
"Thank you for reading our blog post today" – Aidan & Jim.
Would you like us to notify you, by email when we publish new content? If so, just let us know by clicking here. Of course, we can always meet face-to-face, just leave your details here and we might grab a coffee, cheers.   Jim – O'C&K